Connect Your Worlds with Intelligent API
Already working with your own broker CRM? Not a problem! POWWR's intelligent API integrations allow you to connect your platform with our applications to efficiently manage the energy procurement journey.
Connected Journey
Connect your CRM to 90% of the market's broker portals with POWWR's API solutions. Remove data input duplication and manual errors by automatically transferring sales submission data to suppliers without requiring double keying of information.
Easy Integration APIs
As an energy broker, you may already have your own CRM system. With POWWR's Broker360 API integrations, you can connect your systems with our applications and partners to efficiently manage the entire energy procurement journey.
Easy Quoting API
With our Instant Quoting API you can gain access to full-market pricing, and generate contracts via PDF or DocuSign, and our Connected API integrates your Broker360 CRM to our host of Supplier Portals.
Explore the Broker360 Overview
Discover Advanced API
You don't need more tools. You need a clear cut path to your desired business outcomes. Let POWWR show you the way.

Save Time
No more switching from system to system to re-key your deals and pricing information.

Easily Integrated
POWWR's API solution is compatible with all major CRM platforms, including HubSpot and SalesForce.

Customizable
Integrate the applications your way! You are in control of your own procurement journey.

Reduce Errors
Your customer's information can be easily validated and auto-populated, reducing errors and saving time.
Connected APIs, Made Simple
Connect your current platform with our advanced technology to efficiently manage the entire energy procurement journey.
Explore Other Key Benefits of Broker360

Price Comparison Website
Easily offer a branded Price Comparison Website allowing you to capture leads in your sleep and your prospects to generate quotes 24/7.
Integrate Your Software Easier With CAPI
CAPI is a newly released software extension that will make integrations smoother. The goal of CAPI is to create smoother and more efficient integrations between Broker360 and Sales360, allowing contract information to be pushed from WebCRM to the Supplier portals at the time of contract submission. This will minimize downtime and create more seamless transitions across software platforms.
This product will be available within the generate quotes page on the Broker360 portal.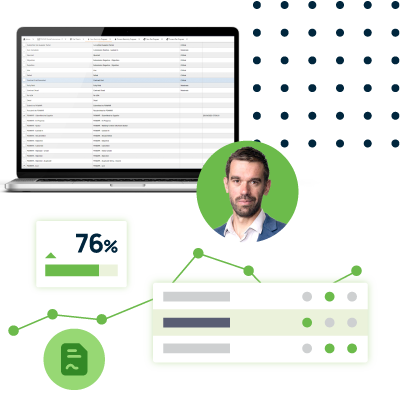 Get Started Today
Stop losing deals to the competition. Speak to a POWWR energy expert about how you can take advantage of everything Broker360 has to offer.
Basic
A quick way to get instant access into the full energy market.
The basic package features:
Plus
Need a bit more customization? Plus is for you!
All the features of Basic and:
Pro
Our most popular plan!
All the features of Plus and:
Elite
Want access to EVERYTHING Broker360 offers? Elite has you covered.
All the features of Pro and:

Frequently Asked Questions
How can Broker360 give me access to more suppliers to win more deals?
Broker360 is the simplest and most risk-free way of increasing your reach and expanding into new markets by creating new relationships in the POWWR marketplace. Getting access to the marketplace is simple.
Register your deals in Broker360 or use the Broker360 Price API
The Broker360 system will return prices from your direct suppliers and POWWR's marketplace suppliers.
Choose the right deal
Enrollment sent to the appropriate supplier
You get paid!
I have my own system, but can Broker360 seamlessly integrate with supplier platforms?
Yes! Broker360 can enhance the functionality of your existing platform by plugging into our connected API library to fill in any gaps in functionality.
What kind of reporting can Broker360 provide?
Broker360 can provide complete end-to-end visibility into your entire sales operation with dashboards and analysis for executive teams, operations and sales leaders on things like agent sales, pipeline status, renewals, churn rate, commissions and more.
How does Broker360 handle my workflow management to ensure my teams remain compliant and stay efficient?
Broker360 allows you to manage process governance, ensure regulatory compliance, tailor workflows for different functional teams, and dictate adherence to your sales process (e.g., LOA requirements).
Can Broker360 provide timely account statuses and commission reconciliation?
Yes! Broker360 can provide timely account status data and rich reporting along with highlighting missing payments, commission shortfalls and payment errors with just a few clicks of a button.
Can Broker360 send comparative offers to my customers that are easy to understand and select?
Yes. You can customize any contract and brand them for your business. Broker360 will add, manage, and update your contracts all in one central location. Your customers can easily sign up and receive a digital contract to sign instantly for automatic enrollments.
How does Broker360 retrieve usage data for my customers?
Broker360 gathers utility usage information from multiple sources including EDI, ECL and Web sources that are accurate and up to date.
Can Broker360 receive pricing with various formats from multiple suppliers?
Yes. Broker360 supports all matrix formats from all suppliers. We'll even import them for you and keep them updated making it even easier to manage your business.
Can Broker360 manage my existing customer renewals?
Yes. Broker360 reminds you when contracts are about to expire to avoid dropped accounts and missed commissions.
Can Broker360 track, manage and organize my leads in one central location?
Yes! The customer tracking & lead management system can handle importing leads, data entry and customer entry via your own custom branded Price Comparison Websites (PCW's) as well as customer renewal management with your existing customers.
Is there any product training once we begin with Broker360?
Absolutely! You be supplied platform training as well as teamed up with a dedicated member of POWWR Success Team to ensure a smooth transition and you are up and running in no time.
Does Broker360 support sales team structures?
Yes! Broker360 allows the addition of sales agents with a unique platform view into only their accounts. As a manager, you will be able to access your full team's deals, commissions, and sales analytics.
How long does it take to get up and running in Broker360?
Depending on the size and complexity of the integration, POWWR can have your platform up in as little as 24 hours.
Can Broker360 be white labeled?
Broker360 is 100% white labeled so you will be able to maintain your unique branding and logo.
Can the Broker360 platform work with my current CRM?
Yes! With the Broker360 API solution, you can simply connect the Broker360 pricing and contracting modules to your already existing CRM. Don't worry, we handle the heavy lifting.
What pricing options does Broker360 offer?
Broker360 can accommodate all pricing models and product offerings from REPs, including matrix, custom pricing, aggregations, etc.
Does Broker360 offer instant matrix pricing?
Absolutely! You will be able to provide instant matrix prices to your customers. Additionally, you will receive a Price to Compare website to display rates and plans.
Are there any monthly fees to use Broker360?
Depending on the features your company needed, these is a flat monthly subscription fee.
Will I need my own supplier relationships to utilize the Broker360 platform?
With Broker360, you can bring your own supplier relationships, use our in-house supplier relationships, or a combination of both. The flexibility ensures you can operate in whichever manner works best for you.
Does POWWR provide residential and commercial energy rates?
Absolutely, POWWR is able to assist with both residential and commercial accounts.
What territories does POWWR operate in?
POWWR operates in all deregulated markets within the United States and the United Kingdom.
Back to top