Automate and Grow Your Energy Brokerage
Brokers are now able to accelerate the entire sales cycle through Broker360.  From instant pricing to sales analytics, Brokers can easily scale their business and be empowered to make smarter strategic decisions.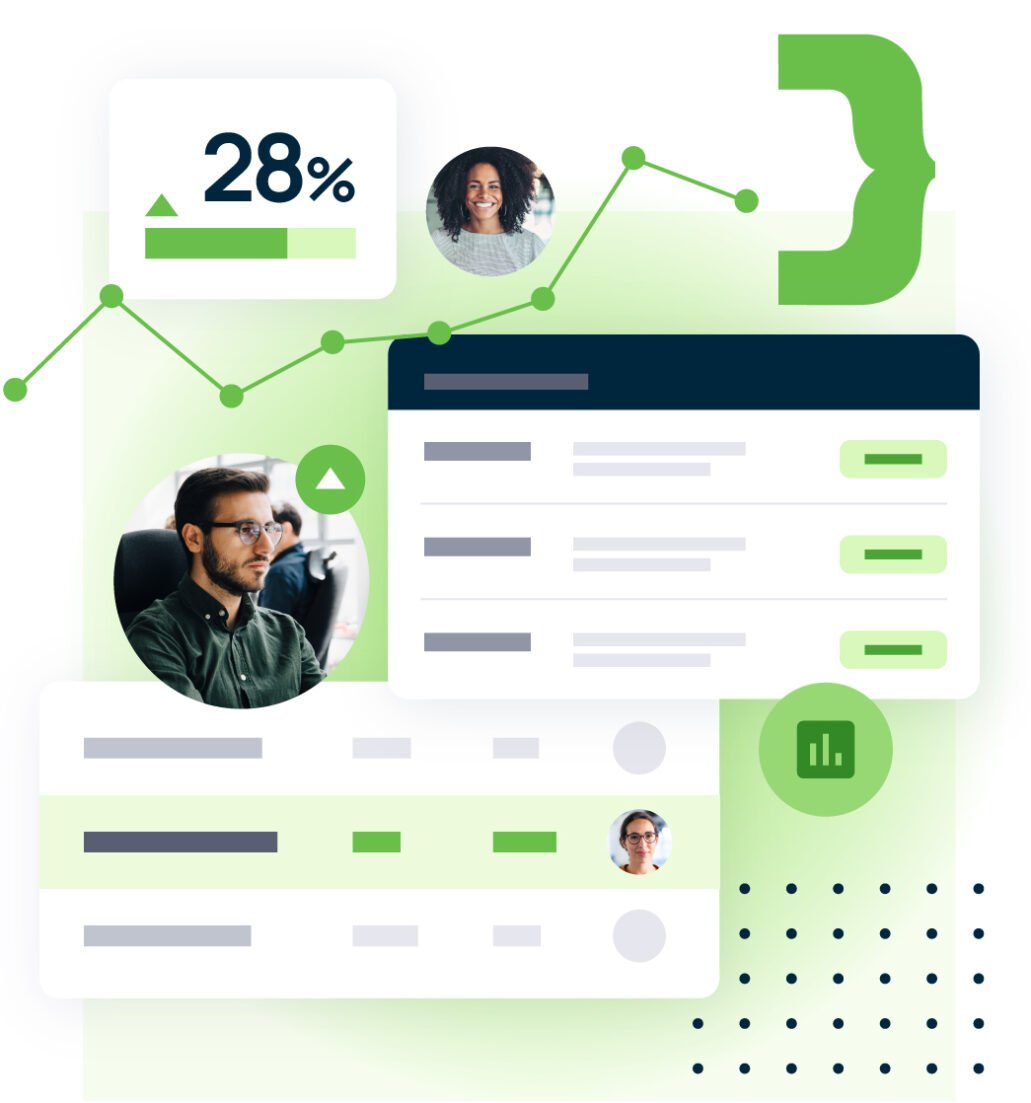 An Award-Winning Energy Portal Developed for Energy  Experts, By Energy Experts 
Broker360 was developed with energy consultants in mind. Whether you are a one-person shop or a multi-location consultancy, you gain access to the cutting-edge tools your need to succeed and grow in today's competitive energy landscape.
Because of Broker360 diversity of tools and features, the platform has become the gold standard for brokers looking to grow. With multiple plans available, simply choose the benefits that meet your current business objectives.
1.6 million
Quoted B2B Transactions
30+
Industry & Product Experts
Better tools, better results.
Are outdated tools and manual processes giving your competition the edge? Broker360 can help you close faster, win more profitable deals and grow your business. Explore just a FEW of our award-winning features below.

Your Suppliers, Or Ours
The Broker360 platform is flexible. To accommodate all brokers, we give you the option to use your supplier relationships or simply using POWWR's to close deals.

Full Market Coverage
Access to transparent and fully managed pricing across all energy markets in the United States and the United Kingdom.

Real-Time Competitive Pricing
With Broker360 fully integrated portal, you can access instant supplier pricing quicker than ever before.

Full Team Management
Operate your business your way. Set up specific user roles, sales teams, and tasks to ensure your day-to-day operations flow seamlessly.

Ongoing Support
As a Broker360 user, you will be appointed an account manager and support specialist to provide guidance and assistance when needed.

Streamlined Commissions
There is no better time to leave the spreadsheets behind! Quickly streamline mundane tasks and reduce manual errors.
Expand Into New Markets
With the POWWR Marketplace, you have the ability to work with the most competitive suppliers for both electricity and natural gas. Broker360 is the only platform allowing brokers to utilize their supplier relationships AND our pool of competitive suppliers.

Find out more
Intelligent APIs to Connect Your Worlds
Already working with your own broker CRM portal? Not a problem! POWWR's intelligent API integrations allow you to connect your platform with our applications to efficiently manage the energy procurement journey.

Find out more
Custom PCW (Price Comparison Website)
Close deals in your sleep with a branded Price Comparison Websites. With an increased shift to digital sales, we understand the need to have pricing accessible to your customers at all times. With POWWR's Price Comparison Website, you put the power to navigate and explore rates in the hands of your customer.

Find out more
Take the first step in supercharging your energy sales
Contact us today to schedule your complimentary demo of the Broker360 energy platform.
"The Broker360 platform is a great asset for our brokerage.  Having a centralized source for our most pertinent data has allowed us to free up management that can be refocused on growing the front of our business. I definitely recommend Broker360 to anyone selling in the retail energy industry."
C. O'Connor, Director of Sales
"Using Broker360 has enabled us to significantly speed up the cost comparison process and benefit from far greater efficiency when it comes to the sales cycle."
J. Baker, Head of Energy Procurement
"We are continually looking for more advanced ways of interacting with our clients, and in Broker360 we found the perfect fit for our business needs."
D. Peake, Director of Energy
"Submitting deals through POWWR has been a great experience. They are easy to work with, the payment terms are great, and I really appreciate the customer service I've been receiving. My business is growing, and I highly recommend POWWR's Broker360."
Faisal Khan, Khandhan LLC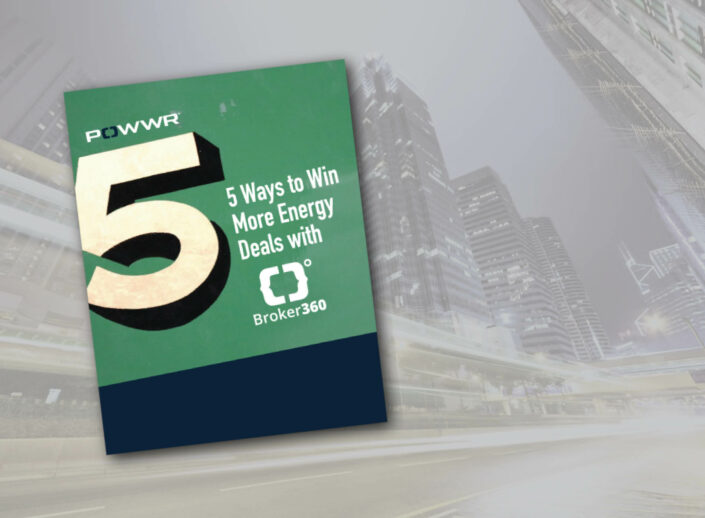 Free Download
5 Ways to Win More Energy Deals with Broker360
Boost sales, increase go-live rates and calculate commissions with greater ease. These are just a few of the ways Broker360 can help you grow your energy broker business

Discover the ideal solution for your business
Outdated tools and manual processes are giving your competition the edge by allowing them to win more profitable deals faster than you can.
Basic
A quick way to get instant access into the full energy market.
The basic package features:
Plus
Need a bit more customization? Plus is for you!
All the features of Basic and:
Pro
Our most popular plan!
All the features of Plus and:
Elite
Want access to EVERYTHING Broker360 offers? Elite has you covered.
All the features of Pro and:
Compare features & Benefits
Grow Your Business
Access to the POWWR Marketplace
Where energy brokers and suppliers come together to price and contract energy deals.
Expand Into All Deregulated Markets*
Not set up in a particular market? No problem, we can help!
Use Our Suppliers or Yours*
Use your supplier relationships, POWWR's relationships, or a combination of both to price deals. You can show your customers all prices in one quote.
Easily Import Leads
Simply import an Excel file into Broker360 to get started working your leads.
-
Branded Price Comparison Website*
Let your customers price and book deals instantly, 24/7.
-
-
External Sub-Broker Access
Give your brokers and agents access to the system and a share in their deals (subject to additional license fee).
-
-
Multi-Meter Deals
Price as many Accounts as you like with one click.
-
-
Get the Best Price for Your Customer
Matrix & Custom Quote Generation
Easily request matrix or custom energy rates within Broker360.
Quote Template Editor
Easily build professional pricing proposals for your customers.
Streamline Disparate Sales Processes
Contract Generation via PDF or DocuSign*
Generate Docusign contracts to send to customers in seconds.
Supplier Enrollment Access
Send executed contracts direct to suppliers for enrollment.
Super Charged Enrollments For POWWR Marketplace Suppliers
Integrate directly with supplier billing systems for realtime enrollments and commission.
Bulk Actions (ie. Import Accounts, Refresh LOA's etc.).
-
-
Simple Sales Administration
Track Your Leads
With the CRM functionality, you follow deals from lead to close
Customer, Account & Meter Management
Manage all levels of the customer relationship
Workflow & Task Management
Assign unique tasks and portal functionality to each group in your brokerage.
E-mail Template Editor
Design email templates for all situations - welcoming new customers, enrolling with suppliers, etc.
Custom Dashboard Builder
See exactly what you need to be effective as soon as you log in
-
Custom Report Builder
Build smart reports that will show you what you need to work on next before you know yourself
-
-
Manage Teams and Sub-Brokerages
Manage all teams seamlessly, assigning leaders and moving deals between teams automatically
-
-
Calculate Your Predicted Revenue
Know the Status of Your Sale
See at a glance where each deal is up to on your dashboard
Calculate Sales Agent Payments
Build agent commission reports and manage payment status
-
-
Projected Income Tracker
See how much is still owed on each account and which suppliers owe you for which deals
-
-
Invoice Import for Commission Reconciliation
Import supplier commission statements for automatic assignment to the relevant accounts
-
-
Optional Modules
Customer Usage Data Automation
Contact us for more details and pricing.
-
-
-
-
Direct Dialer Integration
Contact us for more details and pricing..
-
-
-
-
Supplier Price API Integration
Contact us for more details and pricing.
-
-
-
-
POWWR Support/Training
Dedicated Account Management / Support
Our team are available 24/7 to support with any questions
Video/ In-app Training
Videos and manuals cover all in-app functions
Access to Latest Product Updates
All product updates automatically available
Personalized Training
A custom training program from our team
-
Data Migration
We will ensure all your data is in the right shape to seamlessly import into the system
-
-
-
Securely Manage Your Business From Anywhere
Contract Generation via PDF or DocuSign*
Ready to find out how POWWR can help your business?

Frequently Asked Questions
How can Broker360 give me access to more suppliers to win more deals?
Broker360 is the simplest and most risk-free way of increasing your reach and expanding into new markets by creating new relationships in the POWWR marketplace. Getting access to the marketplace is simple.
Register your deals in Broker360 or use the Broker360 Price API
The Broker360 system will return prices from your direct suppliers and POWWR's marketplace suppliers.
Choose the right deal
Enrollment sent to the appropriate supplier
You get paid!
I have my own system, but can Broker360 seamlessly integrate with supplier platforms?
Yes! Broker360 can enhance the functionality of your existing platform by plugging into our connected API library to fill in any gaps in functionality.
What kind of reporting can Broker360 provide?
Broker360 can provide complete end-to-end visibility into your entire sales operation with dashboards and analysis for executive teams, operations and sales leaders on things like agent sales, pipeline status, renewals, churn rate, commissions and more.
How does Broker360 handle my workflow management to ensure my teams remain compliant and stay efficient?
Broker360 allows you to manage process governance, ensure regulatory compliance, tailor workflows for different functional teams, and dictate adherence to your sales process (e.g., LOA requirements).
Can Broker360 provide timely account statuses and commission reconciliation?
Yes! Broker360 can provide timely account status data and rich reporting along with highlighting missing payments, commission shortfalls and payment errors with just a few clicks of a button.
Can Broker360 send comparative offers to my customers that are easy to understand and select?
Yes. You can customize any contract and brand them for your business. Broker360 will add, manage, and update your contracts all in one central location. Your customers can easily sign up and receive a digital contract to sign instantly for automatic enrollments.
How does Broker360 retrieve usage data for my customers?
Broker360 gathers utility usage information from multiple sources including EDI, ECL and Web sources that are accurate and up to date.
Can Broker360 receive pricing with various formats from multiple suppliers?
Yes. Broker360 supports all matrix formats from all suppliers. We'll even import them for you and keep them updated making it even easier to manage your business.
Can Broker360 manage my existing customer renewals?
Yes. Broker360 reminds you when contracts are about to expire to avoid dropped accounts and missed commissions.
Can Broker360 track, manage and organize my leads in one central location?
Yes! The customer tracking & lead management system can handle importing leads, data entry and customer entry via your own custom branded Price Comparison Websites (PCW's) as well as customer renewal management with your existing customers.
Is there any product training once we begin with Broker360?
Absolutely! You be supplied platform training as well as teamed up with a dedicated member of POWWR Success Team to ensure a smooth transition and you are up and running in no time.
Does Broker360 support sales team structures?
Yes! Broker360 allows the addition of sales agents with a unique platform view into only their accounts. As a manager, you will be able to access your full team's deals, commissions, and sales analytics.
How long does it take to get up and running in Broker360?
Depending on the size and complexity of the integration, POWWR can have your platform up in as little as 24 hours.
Can Broker360 be white labeled?
Broker360 is 100% white labeled so you will be able to maintain your unique branding and logo.
Can the Broker360 platform work with my current CRM?
Yes! With the Broker360 API solution, you can simply connect the Broker360 pricing and contracting modules to your already existing CRM. Don't worry, we handle the heavy lifting.
What pricing options does Broker360 offer?
Broker360 can accommodate all pricing models and product offerings from REPs, including matrix, custom pricing, aggregations, etc.
Does Broker360 offer instant matrix pricing?
Absolutely! You will be able to provide instant matrix prices to your customers. Additionally, you will receive a Price to Compare website to display rates and plans.
Are there any monthly fees to use Broker360?
Depending on the features your company needed, these is a flat monthly subscription fee.
Will I need my own supplier relationships to utilize the Broker360 platform?
With Broker360, you can bring your own supplier relationships, use our in-house supplier relationships, or a combination of both. The flexibility ensures you can operate in whichever manner works best for you.
Does POWWR provide residential and commercial energy rates?
Absolutely, POWWR is able to assist with both residential and commercial accounts.
What territories does POWWR operate in?
POWWR operates in all deregulated markets within the United States and the United Kingdom.
Back to top
Stop losing sales to your competition
Outdated tools and manual processes are giving your competition the edge by allowing them to win more profitable deals faster than you can.